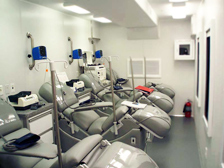 Cantek's Medical Hospitals give you an opportunity to bring medical care to the most isolated regions.
You can choose a type of Medical Units you need in order to assemble a fully functional hospital. Your Mobile Hospital can consist of: Mobile Surgery units, Mobile X-ray, MRI, Ultrasound units, Blood Transfusion unit, Laboratory units, ICU Units and Patient Recovery Units.
All Units can be assembled together and give you a capability and functionality of a full Hospital. Hospital assembly is capable to operate without any external power supply and has a centralized air conditioner and heating system able to keep comfortable working conditions even at severe weather temperatures from -45C to +45C.
Each Unit can travel separately and operate independently. All units are assembled using latest medical and mobile technology.
Our offices located in Europe and North America can provide you with 24 hr customer care and technical support.