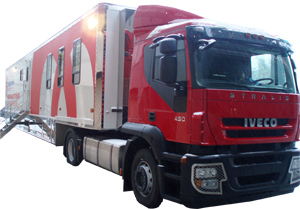 Our Mobile Medical Hematology units are made and designed to fit your needs.
We can supply and customize your unit to specific needs and requirements.
This Mobile Station is designed and intended for use as Mobile Medical Hematology unit for:
whole donor blood and blood components collecting
blood analysis (blood typing ABO/RH and test for infection & diseases)
blood processing
long term storage of blood and blood components, up to 10 years using appropriate blood preservatives.
In case of emergency situations and massive catastrophe this Mobile Station can be used as a Mobile Blood Transfusion Station or a Mobile Hospital. Station is capable to operate for up to four days without any external power supply and has a centralized air conditioner and heating system able to keep comfortable working conditions even at severe weather temperatures from -45C to +45C.
Mobile Station can be build up to 53' length and standard layout would include six rooms, isolated by solid walls with door.
Each room is designed for a specific need:
Entrance Room – for waiting and rehabilitation of donors.
Donor Registration Room – for donor registration and private conversation.
Donor Examination Room – for donor medical examination by doctor or physician.
Lavatory Cabinet with bio-toilet and stainless steel sink and mirror.
Blood Donation Procedure Room with Five (5) Donor Beds.
Medical Laboratory and Blood Storage Room.
Our standard unit is equipped with: 5 Medical chairs, three freezers for blood storage, patient monitors, blood analyzer, IFA analyzer, Portable hemoglobin analyzer and other blood testing and handling and laboratory erumpent.
Cantek's Mobile Medical Hematology trailers are equipped with the latest technology, and can include optional wireless communication, allowing instant access to resources and outside.
Our Mobile Medical Hematology unit provides you with capability to travel to most isolated locations and provide better services. Station can also be utilized as mobile laboratory, or part of the mobile hospital.