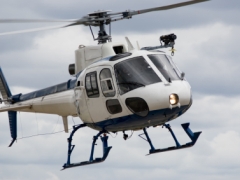 Medical Helicopters give you capability to provide fast medical help in situations where either a traditional ambulance cannot easily or quickly reach the scene or the patient needs to be transferred at a distance where air transportation is most practical. It gives you ability to provide medical needs on sea and land and quickly transport patinas to the hospital's landing pad. Quick service and capability of Medical Helicopter will help you to save more life in you region.
Cantek's Medical Helicopters are fully customized and equipped using latest medical, aircraft, and ambulance technology.

Our Aircrafts can be equipped with satellite tracking and night vision equipment. Aircraft is equipped with medical equipment such as ventilators, ECG, stretchers, defibrillator, and etc. During the flight patient is fully accessible for treatment and monitoring Cantek's Medical Helicopter can be utilized as part of our Mobile Medical Hospital and provide needed support. You can coordinate and combine services of your Cantek's Mobile Hospital and Cantek's Medical Helicopter to provide better and more efficient medical service.